Pit Bull Conversation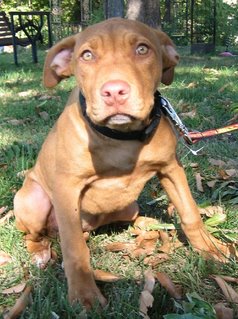 Honey and I went to Jamba Juice which means I go in and Honey sits outside where I can watch her through the plate glass window. She's really very good, patiently waiting in a sit or down stay for however long it takes. A young girl (16-ish?) asked me if Honey was mine.
-"Yes - that's Honey."
She said "She's really pretty and she's very good."
- "Thank you. She's a great dog."
"I like her coloring - I like it better than when the nose is black."
- "I think she's called a red-nosed pit."
"Oh, that figures I'd like that," the girl said and kind of pointed to her hair. "Of course, I like red things."
I realized then her hair was red. "Yes - that makes sense."
Then, I started to give some of my pit bull ambassador speech. Great dogs, etc.
The girl said to me
"When I was young, they used to say such bad things about pit bulls. But now everyone has one and then you find out that it never was the dogs - it's the owner."
I love that she talked about when she was young as if looking way far back. I love that she thinks everyone has a pit bull. I love that, in her world, the misunderstanding with pit bulls is over.
(Picture of red-nosed pit is from
Missouri Pitbull Rescue
that I just discoverd. Missouri has a horrible time with puppy mills, bad owners, animal cruelty and these people are doing a fantastic job. The information on their site about pits is some of the best I've read.)
pitbull
,
pit bull